Rotary Camp completed a 3.5 million dollar capital campaign in 2013 in which many of camps outdated buildings were renovated or rebuilt.  The buildings are beautiful and would make a perfect retreat for any group looking for space.  Camp is located on six beautiful acres, overlooking the scenic Rex Lake. All of our facilities are fully winterized allowing us to accommodate your group at any time.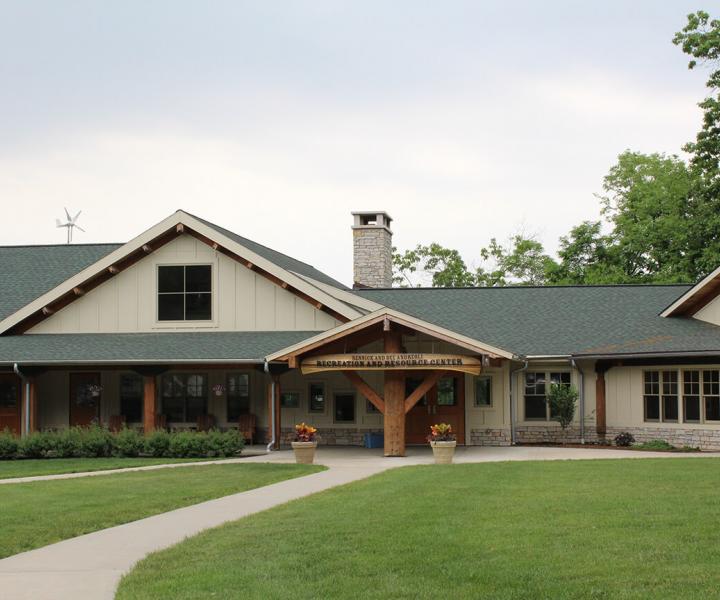 Rennick and Dee Andreoli Recreation and Resource Center
A gorgeous 2 story recreation and resource center, fireplaces included, is the perfect meeting place for any group. Completed in 2013, this building contains a large group activity room, conference room, nurse's lodge, nature center, sensory room and plenty of open space to meet any of your needs.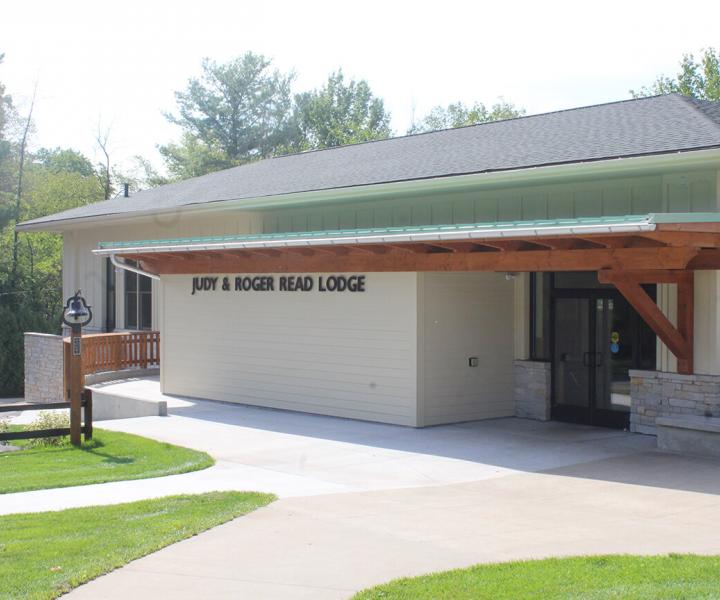 Judy and Roger Read Lodge
Includes a full kitchen, dining hall, bathrooms and overlooks the lakefront. This area can accommodate up to 100 people. Also in this building on the lower level, is an Arts and Crafts Room.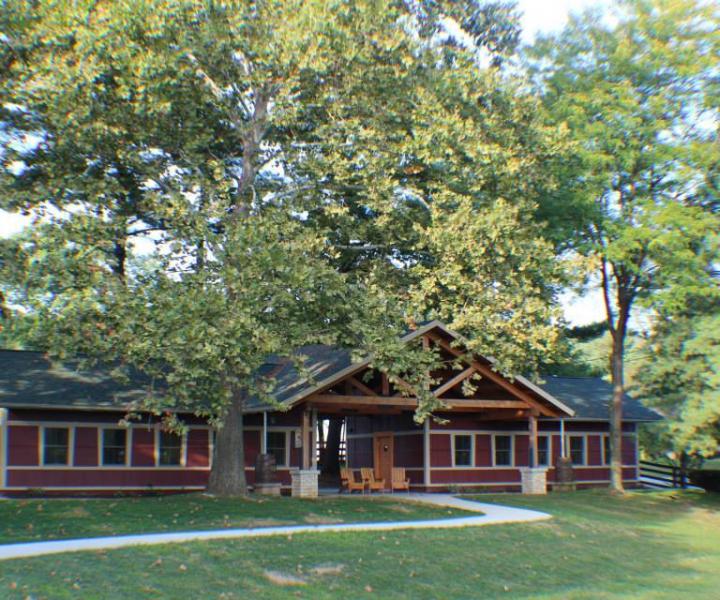 Cabins
There are seven cabins which include central air and heat. Each cabin sleeps up to 12 people and are just steps away from the bath house. There is a separate area in the back of the cabin that is used in the summers for the counselors. All of our facilities are accessible to meet everyone's needs.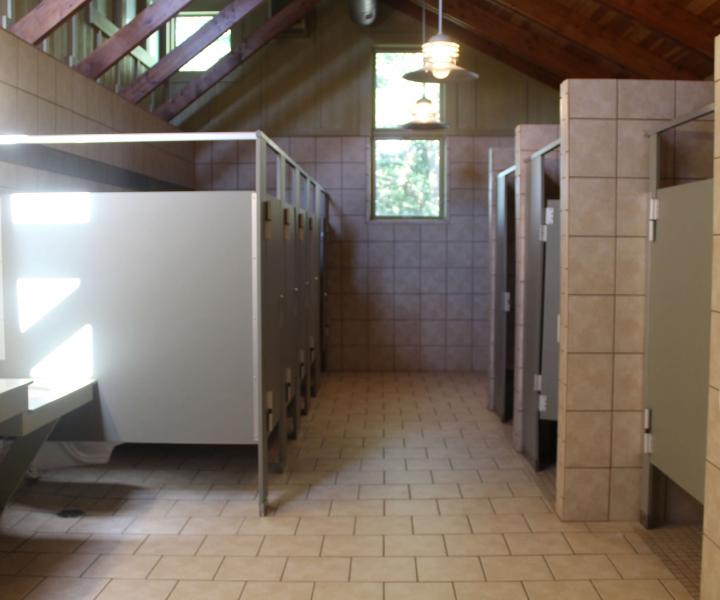 Bath House
The bath house has a women's side and a men's side, and each area contains 5 toilets and 4 private showers.  This area is fully accessible.  Who says you can't stay clean while camping!  
The Akron Rotary Camp strives to reach the goals of each and every group we serve. No matter your group's orientation, we welcome you to our program and facilities. All of our facility fees help to support our Summer Camp Program. Our a la carte philosophy allows groups to create any type of programming they wish. We can provide a wide range of camp activities and leadership training experiences or your group can do all the programming on their own.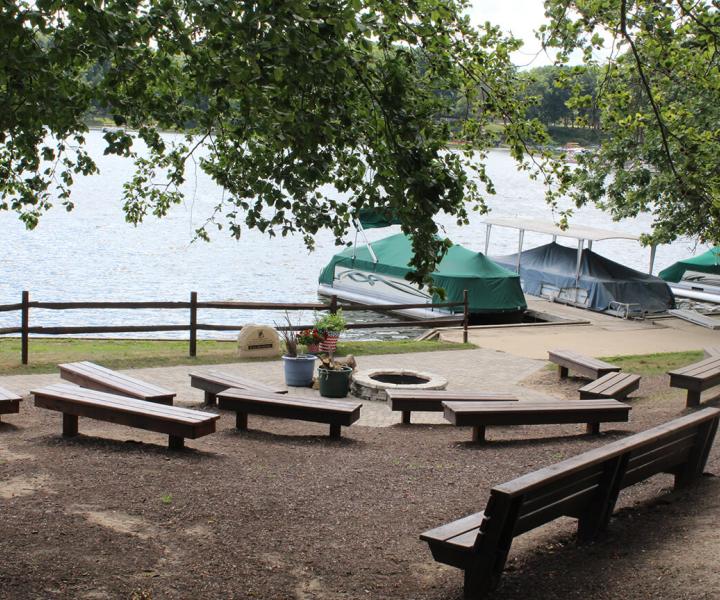 Pavilion, Waterfront and Fire Circle
An outdoor pavilion sits directly next to the waterfront and is a beautiful place for any picnic on nice sunny days. 
 
In warmer months, the swim area and beach are open which include a water trampoline and four way teeter-totter that are sure to be a hit with the kids young and old. With ample notice and an additional fee Rotary Camp can provide a lifeguard. Also available are 2 pontoon boats and several canoes and kayaks in which your group can explore the Portage Lakes. The Fire Circle, which also overlooks Rex Lake is a fun gathering location for any group event.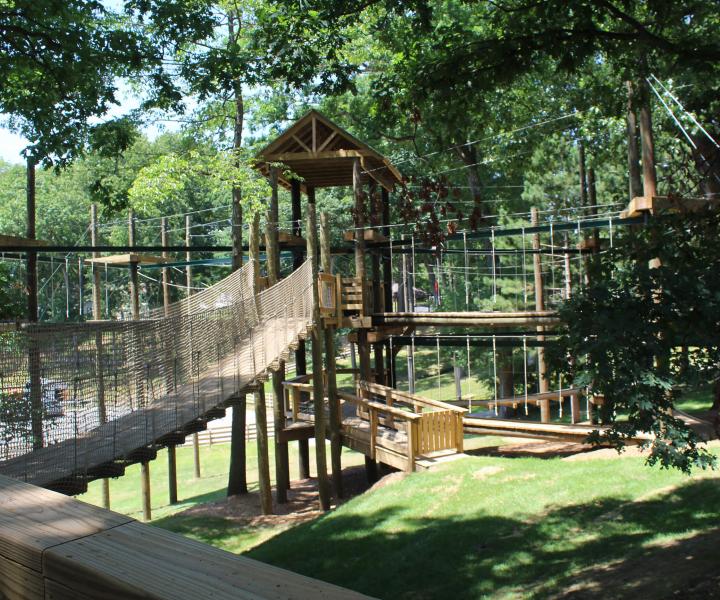 Bud Rogers Adventure Park
Bruce "Bud" Rogers was a member of the Rotary Club of Akron for over 40 years.  He served as club president in 1984-1985. Throughout his life he committed to volunteerism. He was the Ambassador of Service for the Akron Rotary's Chili Open in 1993. He also was honored with the  Burt A. Polsky Humanitarian Award from the Akron  Community Foundation and the H. Peter Burg Community Leadership Award from the American Red Cross. Bud was a silent strong leader who was respected by all within Akron Rotary and the greater Akron Community.  
It is because of Bud's passion for the outdoors and commitment to vulnerable youth we are pleased to name our new Adventure Park in his honor.  The Bud Rogers Adventure Park features six high elements, three ground elements and a dual zip line on the shores of Rex Lake. The Park is unique as every element is completely accessible regardless of any camper's mobility.  Through these elements campers will have the ability to learn independence, demonstrate group work and teambuilding skills, and fly free. 
For more information, or to schedule a camp tour, please contact Kyle Blincow at 330-644-4512 ext. 3202, kyleb@akronymca.org